Main Office

P.O. Box 3750
Alliance, Ohio 44601
Phone: (330) 525-5119
Fax: (330) 525-7908

Additional Locations
New York

620 Park Avenue Suite 333
Rochester, NY. 14607
Phone: (585) 442-1840
Fax: (585) 486-1458
Illinois

47 Polk Street Suite 156
Chicago, IL. 60605
Phone: (312) 427-9394
South Carolina
701 Gervais Street Suite 156
Columbia, SC. 29201
Phone: (803) 451-0516
Puerto Rico
Metro Office Park #3
Street 1, Lot 3, Suite 108/231
Guaynabo, PR 00968
Phone: 787-303-0332
Toll Free: (800) 824-4274

Partner In Gulf Coast Countries

Custom Stack Analysis, LLC./Hi-Tech Consulting & Construction, Inc. Group
P.O. Box 250677
Tahlia Street
King Koil Building
2nd Floor, No. 20
Riyadh, 11391, K.S.A.Phone: 966 1 466 7676
Fax: 966 1 293 7015
Custom Stack Analysis, LLC., was originally established in Alliance, Ohio, in 1965 by Mr. Ernest Kolm. In the year 2000, the company was acquired by Mr. James K. Gray, who has over 23 years experience in the field of air emissions testing. In the year 2012 Custom Stack Analysis, LLC. acquired the source testing assets of Affiliated Environmental Services, Inc. and in 2005 acquired the source testing assets of Envisage Environmental, Inc. Custom Stack Analysis, LLC. has capabilities for performing Stack Testing, Industrial Hygiene, Analytical Services, Burner Combustion Efficiency, Radon Testing and Indoor Air Quality. The company has performed work not only for small companies, but also many fortune 500 companies. A professional staff can ensure that any of your environmental needs are met with quality and competitive pricing.

Custom Stack Analysis, LLC., has been providing air emissions testing for the past 49 years. In this time, they have performed testing for many prominent clients, such as Stericycle, Inc., Goodyear Tire & Rubber Co., and WCI Steel, along with many other prominent companies. The company has extensive knowledge in testing for medical waste incinerators, printing operations, steel foundries, asphalt facilities, power plants, petroleum refineries, chemical plants, brick manufacturers, lumber processing, hazardous waste incinerators, rubber manufacturing, roofing production, plastic manufacturers, and many other types of operations. The company has also been providing its services to engineering companies, government agencies, and control system designers. The company has experience providing services internationally including Canada, Puerto Rico, Jamaica, Dominican Republic, Caribbean Islands and South America. If you have an international project that requires our services be sure to give us a call. In 2009 Custom Stack Analysis, LLC. joined a service alliance with Custom Stack Analysis, LLC./Hi-Tech Consulting & Construction, Inc. Group for providing services in Saudi Arabia and the Gulf Coast countries.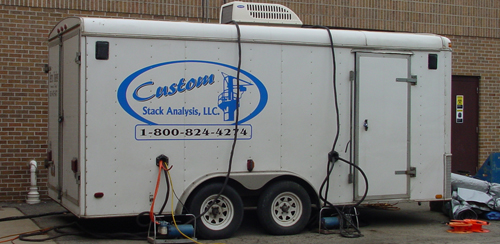 Custom Stack Analysis, LLC., has an excellent performance reputation in working with many prominent Clients in Ohio and throughout the United States. The company is noted for its ability to deliver quality services in accordance with project schedules, and to provide responsive assistance to Clients in emergency situations.

Custom Stack Analysis, LLC., has a company policy of providing high quality services to clients. The company also has a strong commitment for safety on the job for its work force, which includes USEPA's safety, health, and environmental management training program for field activities for all employees.

Custom Stack Analysis, LLC., is an active member in the Air & Waste Management Association, Source Evaluation Society, Ohio Chamber of Commerce, and Carolina Air Pollution Control Association.


Reputable Environmental Testing Services
Everyone has a responsibility to care for the environment to reduce the levels of pollution, including businesses that daily release emissions into the air and the ground. This is why we provide a full-service environmental testing service to help businesses identify problems and resolve them so they operate in the most environmentally-friendly method possible. We offer air emission testing, emissions monitoring services and stack emissions testing to businesses of all sizes.
Air Compliance Testing
There are many businesses that release emissions into the air due to their daily processes. Because there are regulations in place to minimize pollution, these businesses need the help of air testing companies to make sure they are in compliance with the regulations. We perform air emissions testing to let your business know whether it falls within the set guidelines, as well as emissions monitoring services to ensure you remain within the regulations. This will keep the environment around your plant healthy and ensure you donít accrue fines for violations.
Stack Emission Testing
Smoke stacks are among the most frequent contributors of air pollution around factories and other similar businesses. If your company uses these stacks, you need to locate reputable stack testing companies, such as ours, to help you determine the amount of pollution you are contributing to the air and how you can reduce these levels. Stack testing is a critical aspect of ensuring the protection of the environment around your business, keeping the local environment and the people who live nearby safe and healthy.